Denesting Pick and Place Clippy Denester
Denester for trays and lids
Clippy Denester is  a denester machine,  that is a pick and place device especially designed to denest thermoformed  trays and lids.
Clippy Denester by a vacuum suction mechanism picks piled trays (lid, tubs) from a loading stacker add places them horizontally on the packaging line.
This denester  is equipped with ad a double loading stack, in order to load 2 rows of products and increase production speed; upon request it is possible to add more loading stacks for even higher production needs.
The programming keyboard will allow to set speed and control functions in a user-friendly way: automatic speed adjustment, multiple product distribution, control of missing picking with automatic stop.
Features of the denester

Base support structure
Double loading stack  (more loading stack upon request)
Mechanical device with vacuum pad for horizontal positioning
Control on missing picking
Venturi vacuum pump
Safeguards on kinematic
Separate control box (remote terminal up to 3 m) with integrated PLC
Separate control panel  (remote up to  3 m)
Brushless motor
Ancillary devices

Start for tray picking and placing
Control on minimum load
Programming keyboard
Vacuum pump (according to products)
Features
Dispensing speed
≤ 100 pcs/min
((depending on the
product shape and dimensions)
Product sizes L
100 - 200 mm
Product sizes W
100 - 200 mm
Product thickness
10÷35 mm
Motor type
brushless
Size L - W - H
1187x1958x1214mm
C.B. dimensions
L - W - H
400x600x200mm
Power supply
400 V
3P-N-PE, 50-60 Hz
Electrical input
600 W
Electric protection
IP 54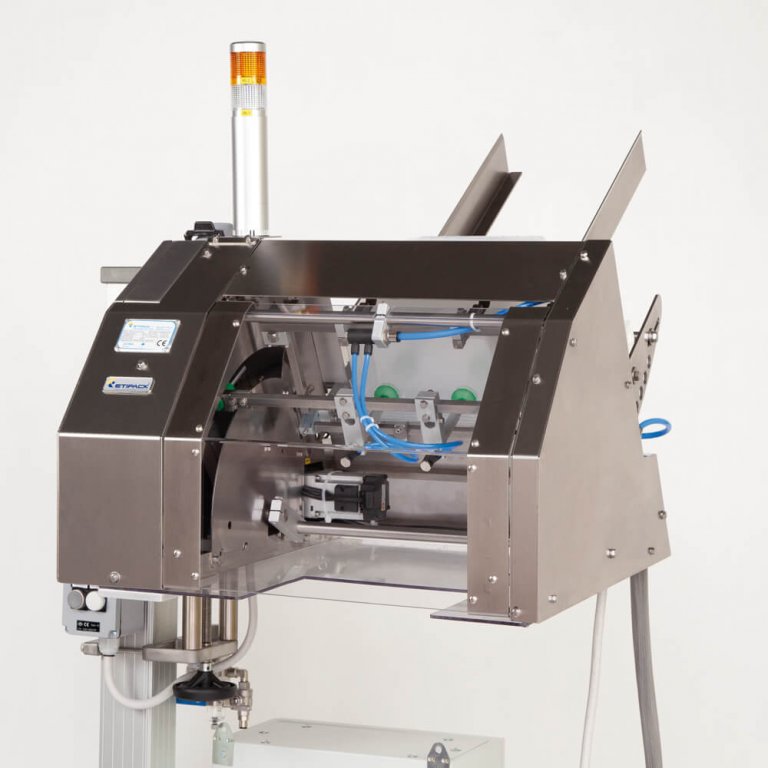 Clippy-Denester.pdf
What is your industry?
What is your product like?
Questo sito utilizza cookie di terze parti anche per ottimizzare la tua esperienza online. Accettando di utilizzare questo sito senza modificare le tue preferenze relative ai cookie, autorizzi l'uso di cookie da parte nostra. Puoi eliminare e bloccare tutti i cookie di questo sito web, ma alcuni elementi del sito potrebbero non funzionare correttamente. Per maggiori informazioni consulta la nostra informativa sulla privacy e trattamento cookies maggiori informazioni
Questo sito utilizza i cookie per fornire la migliore esperienza di navigazione possibile. Continuando a utilizzare questo sito senza modificare le impostazioni dei cookie o cliccando su "Accetta" permetti il loro utilizzo.