27/10/2020
Dalila Freddi
News
Il mercato globale del pet food dovrebbe raggiungere 113,08 miliardi di dollari entro il 2025
26/08/2020
Dalila Freddi
News
A project in partnership with Etipack BV- Etipack affiliate in The Netherlands. Leggi l'articolo originale  Flexibility was the keyword for […]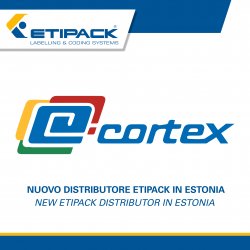 27/07/2020
Federica Gorla
News
Etipack presenta la nuova partnership con CORTEX nuovo distributore in Estonia specializzato insoluzioni per il packaging.
16/07/2020
Dalila Freddi
News
The global pet food market is expected to reach $113.08 billion by 2025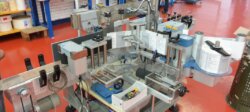 02/07/2020
Dalila Freddi
News, Case History
Project in partnership with Bema – an Etipack affiliate in Germany. Read the original article  One of […]
30/06/2020
Federica Gorla
News
We inform you that Etipack offices will be closed from……
22/06/2020
Dalila Freddi
News, Case History
Labeling system for large cardboard boxes equipped with labeling machine for label application with pitch up to 400 mm
eaflets, drug-facts labels, heat-sealed sachets, small gadgets, but also collars on the neck of bottles and bottles, are widespread packaging complements included in a very large number of products. 
05/06/2020
Dalila Freddi
News, Case History
Cosmetic products automatic labelling system for the application of pressure-sensitive labels on quadrangular and cylindrical vials.
Book your virtual meeting online with Etipack on the Cosmoprof MY MATCH platform
What is your industry?
What is your product like?
Questo sito utilizza cookie di terze parti anche per ottimizzare la tua esperienza online. Accettando di utilizzare questo sito senza modificare le tue preferenze relative ai cookie, autorizzi l'uso di cookie da parte nostra. Puoi eliminare e bloccare tutti i cookie di questo sito web, ma alcuni elementi del sito potrebbero non funzionare correttamente. Per maggiori informazioni consulta la nostra informativa sulla privacy e trattamento cookies maggiori informazioni
Questo sito utilizza i cookie per fornire la migliore esperienza di navigazione possibile. Continuando a utilizzare questo sito senza modificare le impostazioni dei cookie o cliccando su "Accetta" permetti il loro utilizzo.